News & Updates
"Starchild: The Ballad of Debbie Walker" is a life set to hip hop and rock
By Allen Neuner - Out In Jersey Magazine May 28, 2023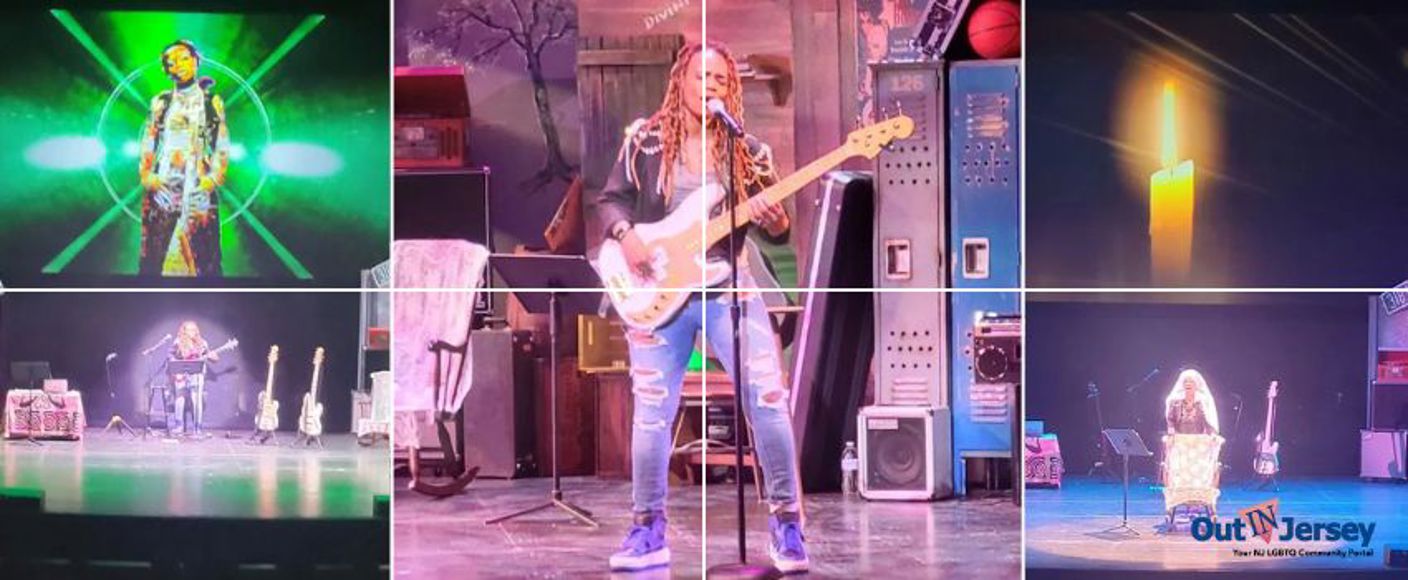 The most difficult thing to do is find a way to put into words the sheer joy that is Starchild: The Ballad of Debbie Walker. Starchild is an autobiographical theater piece/ rock concert written and performed by Divinity Roxx (née Debbie Walker). From the moment she sets foot on the Elizabeth Ross Johnson Theatre stage, Ms. Roxx captivates the audience with her story and easily proves her masterful talents. She is a born story-teller; a bass guitar virtuoso; and a powerful singer, able to bring together the often disparate worlds of hip hop and rock music. She tells her life story with openness and candor, and inspires the audience with her perseverance and resilience. She is a force of nature, and her show is one that must be seen.
Roxx' story takes us from her birth in Atlanta in 1976 to the present day. She attends Victor Wooten's Bass Nature Camp in Tennessee and is asked to tour with him. She becomes the bassist and musical director for Beyoncé Knowles, meeting her dancer wife Yani while on tour. And she goes through tribulations with her family. Through all of this, Roxx continues to develop and express the talent within her and eventually finds purpose in her life.
Crossroads Theatre Company, under its artistic director Ricardo Khan, nurtured Roxx' playwriting ambitions, encouraging her to take the leap into putting the story of her life on stage. To make sure that story would have the best chance to shine, Tony and Emmy award nominated actor Daniel J. Watts was chosen to make his first foray into directing with this play. The brilliance of Roxx and Watts' collaboration is visible, nearly palpable, throughout the play.
Roxx is supported by two extremely talented musicians. Wes Mingus on guitar and Granville Mullings, Jr. on drums provide capable support throughout all the musical numbers, yet only appear on stage during the show's finale – one of the very rare times I've seen audience members get up and dance in the aisles and in front of the stage during a show.
In describing Starchild, Roxx says in a Playwright Statement in the program: "This is a story of me, growing up Black in America, queer in Blackness, and female. It's a story of saints and sinners and how we all fall somewhere in between in varying degrees at varying times in our lives. It's the story of how complicated life is and has always been for US." Crossroads Theatre Company has picked a winner with Starchild to kick off its 2023 Spring Season. Starchild is full of life, music, and energy, and you'd be a fool to miss out on it. I strongly urge you to lose yourself in the entertaining power of Divinity Roxx in Starchild: The Ballad of Debbie Walker!
Starchild: The Ballad of Debbie Walker is presented by Crossroads Theatre Company at the Elizabeth Ross Johnson Theatre in the New Brunswick Performing Arts Center through June 4th. Other upcoming shows in their 2023 Spring Season will be Lady Day at Emerson's Bar and Grill May 31st to June 8th, and I Got Life: The Music of Nina Simone June 10th and 11th. For more information or to order tickets, call 732-545-8100 or go to crossroadstheatrecompany.com.
Recent Posts
#ThinkTheatre
Theatre is movable. Great performance experiences can be staged in warehouses, basements, bars, parks, cars, beaches and elevators.
---