News & Updates
Cindy Cephas, Quilter and Figurative Art Painter is Keeping the Faith
November 29, 2022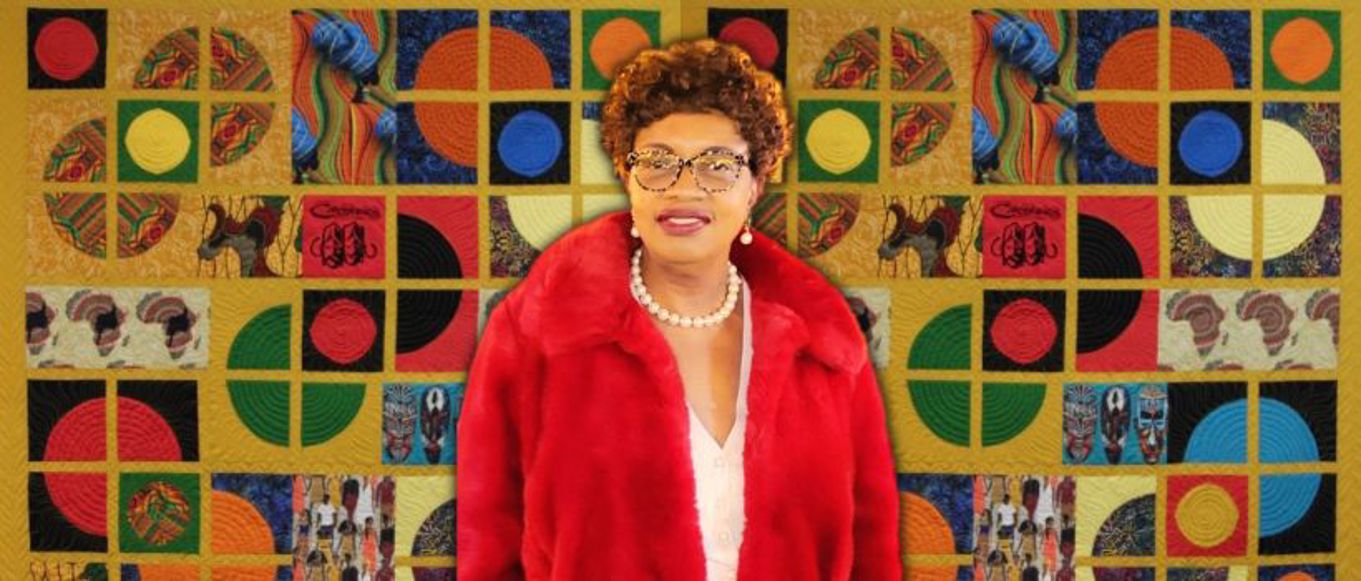 Cindy Cephas' artwork will be featured during the Chicken and Biscuits run at NBPAC, December 21-31. On December 10, she was interviewed by Susan Settles, CTC board member.
What inspired you to design a quilt and donate it to Crossroads Theatre Company?
I have been a patron of Crossroads Theatre Company for many years and believe in their mission and story. Last season, I had the opportunity to be a vendor during the run of FREEDOM RIDER and was empowered by just being in the space watching people come and go, and watching their stories unfold. I wanted to do something to pay tribute to this remarkable gathering place. My view of the world began to expand..Since I am a quilter, and I like to tell stories, I decided to design a quilt that told a story about Crossroads Theatre Company. The circle theme is representative of the sun and the moon. Keep the faith because the sun always rises. I am hopeful that it will find a good home and be passed on from generation to generation.
Tell me about your introduction to quilting.
I grew up with quilts. My great aunt was a quilter, perhaps out of necessity, perhaps out of love for the art form. I suspect that it was for both reasons. She made quilts for everyone in the family. . When I was a young girl, seven or eight years old, she lived close enough for me to walk to her house, which I did often. IShe taught me how to sew. Often, I would sit at her feet with the scraps of fabric she discarded stitching them together. She had one of those pedal sewing machines. It was so much fun watching her work as I created my own mini quilts.
When did you get serious about quilting?
It wasn't until I was 12 years old, and I took home economics, that I started sewing again. My father bought me a sewing machine and it was then that I started making clothes. This continued for a while. And then life happened. I got married, had children, and didn't have time for a hobby. In my late 30's, I started focusing on quilts. I can still close my eyes and recall the precious moments I spent sitting with my great aunt, listening to the rhythm of her foot pushing the pedal of that old sewing machine. I loved those times which may have something to do with my love for quilts and quilting. Then, quilting evolved from a hobby, to a passion, and eventually to a livelihood.
What is unique about your quilts?
I am not sure that's it's unique, but my quilts all tell a story. When I am commissioned to make a quilt, I spend a good deal of time listening to my client so that I have a clear understanding of what he/she'd like in the finished product. I do like to use vibrant colors and different textures in my work. For example, when I am designing people. I use synthetic hair in the composition rather than fabric.
Who are some of the people that own your quilts?
Oprah Winfrey, Jill Scott, and the estate of the late Aretha Franklin to name a few.
Anything, anything at all that you would like to share with readers?
Love what you do. Do what you love. It will bear fruit.
Sun & Moon is on display in the lobby of the New Brunswick Performing Arts Center through December 31st and will be available for purchase via auction. Contact Susan Settles via ssettles@crossroadstheatrecompany.org for more information.
---

Recent Posts
#ThinkTheatre
Theatre is reflective. Watching life on stage can influence how we see (and react to) life in the streets.
---